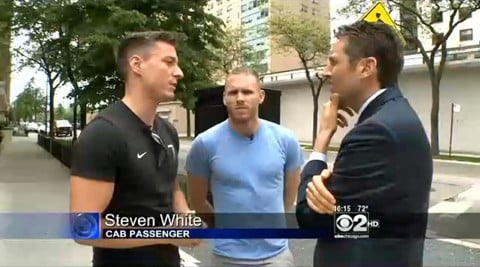 Back in June, we reported on a Chicago cabbie who tried to force Steven White and his boyfriend Matt McCrea from his cab on the side of the rain-drenched Kennedy Expressway after they kissed briefly in the back seat. CBS Chicago reported then:
During the ride, McCrea "leaned over to look at something on the phone and then he leaned in to kiss me," White recalls.
McCrea says it was a closed-mouth kiss that lasted all of a second. It did not go over well with their cab driver, the two men say. "He indicated that it was a public mode of transportation and we shouldn't kiss in his cab," White says. "He pulled the cab over and stopped and wanted us to get out – on the Kennedy."
Now, Lambda Legal has filed a complaint on behalf of the couple:
"A taxi-cab company, like any other business in Illinois that offers services to the public, is bound by the Illinois Human Rights Act to not discriminate based on sexual orientation, among other protected categories," said Christopher Clark, Senior Staff Attorney for Lambda Legal. "What happened to Steven and Matthew was not only hurtful and unlawful, it illustrates exactly why Illinois' citizens need the state's long-standing Human Rights Act to protect them against dangerous situations like this."
At the time, the cab driver claimed the couple was "making sex," but police found no evidence to support that claim.