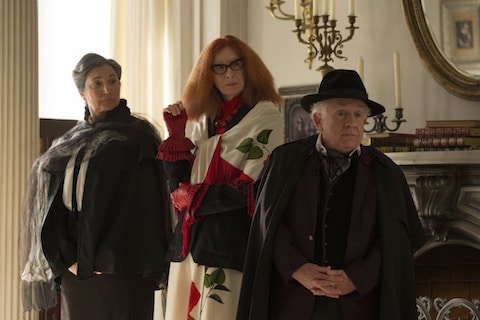 As the TV season gets into full swing, check out our new weekly guide to make sure you're catching the big premieres, crucial episodes and the stuff you won't admit you watch when no one's looking.
— American Horror Story: Coven gets an early jump on Halloween Wednesday at 10 p.m. Eastern on FX. If you thought the camp factor couldn't get any higher, don't miss Leslie Jordan joining the fun this week. (Catch up on last week's episode with our recap!)
More picks and clips, including Big Freedia's plans for a children's show, an SNL spooktacular and the return of the Atlanta Housewives, AFTER THE JUMP…
— Big Freedia has to prepare a show for children, while cleaning up the signature dirty dancing. See if the Queen Diva can pull it off on Big Freedia: Queen of Bounce, Wednesday at 11 p.m. Eastern on Fuse.
— Relive your favorite Halloween-themed Saturday Night Live skits Thursday at 8 p.m. Eastern on NBC. It's probably a safe bet to expect at least one reappearance of the recurring Vincent Price Halloween Special sketch, but we wouldn't mind revisiting Ed Norton's bizarre character from last weekend's episode, either.
— Gareth Malone has been spreading real-life glee overseas by turning military wives, celebrity chefs and children into choirs. It Takes A Choir brings his schtick to the States, as he transforms towns with the gift of choral song. Sing your heart out Saturday at 11 p.m. Eastern on USA.
 
— If I Dream of NeNe still left you wanting more of the biggest Housewives star, watch her return on Real Housewives of Atlanta alongside Kandi, Phaedra, Porsha and Kenya. Sadly, Kim Zolciak is not returning this season, which premieres Sunday at 8 p.m. on Bravo.
What will you be watching this week?