As previously reported, last week New Jersey judge Mary Jacobson ruled that same-sex couples must be allowed to wed in the Garden State, declaring, "now that the federal government recognizes gay marriages, not doing so in New Jersey would violate the state constitution." Governor Chris Christie, a stalwart opponent of gay marriage, who in the past vetoed marriage equality legislation sent to him by the state legislature, today officially made good on his earlier promise to appeal Judge Jacobson's ruling. Acting State Attorney General John Hoffman in his appeal to the State's Supreme Court also requested a stay which would in effect prevent same-sex couples from marrying "until the matter can be settled." In response, Lambda Legal promptly announced they will fight Hoffman and Christie's attempts to stay Jacobson's decision. Hayley Gorenberg, Deputy Legal Director at Lambda Legal (pictured below), spoke on behalf of the organization: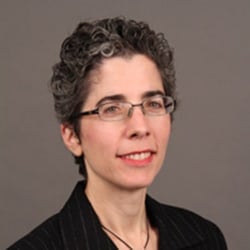 "We're going to
do everything we can to make sure same-sex couples can begin making
plans to marry starting on the date set by the court – Oct 21st. We will
file our opposition on Friday and we'll be making the case that  we are
likely to win and any delay in allowing same-sex couples to marry is
too great a hardship to allow a stay."
Lambda Legal first brought the case in question to the court in 2011. Following the United States v. Windsor ruling that gutted section 3 of DOMA, Lambda Legal asked for summary judgment from the New Jersey Superior Court. Lambda Legal also filed the 2002 Lewis v. Harris case in New Jersey. In that case the state Supreme Court ruled that same-sex couples must be afforded the same rights as their heterosexual counterparts, though the Court stopped short of saying that full marriage equality was required under the state's constitution. A civil union law was passed by the state legislature as a result of that ruling.
Lambda Legal is far from the only party displeased with Governor Christie's efforts to fight Judge Jacobson's decision. Among others, Christie has drawn the ire of comedy mogul Judd Apatow, who last week tweeted his displeasure with the Governor's anti-equality positions.