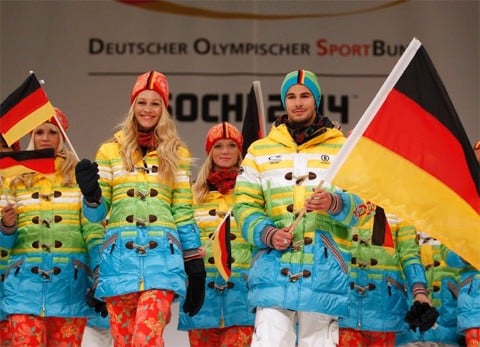 The German publication Spiegel reports that Germany's extremely colorful Olympic uniforms for the Sochi 2014 Winter Games are being called out by many on social media as a silent protest against Russia's anti-gay laws.
The teams' hats have a stripe reminiscent of the German flag set in bright blue and red color schemes. The overall look is puffy and bright, or, as German daily Die Tageszeitung described it, "a cross between a pot-bellied pig and a parrot."
The uniforms were created by German designer Willy Bogner, in cooperation with Adidas and the shoe company Sioux. Bogner claims they were an homage to the aesthetics of the 1972 Munich Summer Games and said he wanted to create a "celebratory design, inspired by the great atmosphere of the times."…
But other commentators have seen a more explicitly political message in the uniforms. On Twitter, German users interpreted the uniforms "as a rainbow pattern" and as a "clear political statement." "Looks great, like a gay and lesbian pride parade," wrote one user. "Extremely hideous — but a well-intentioned move supporting the rights of gays and lesbians," wrote another. The official description, which claims the outfits "were created using colors and materials specially tailored to the conditions in Sochi" seemed to, in ambiguous fashion, support that interpretation.
Others are reportedly mocking them as a tribute to Apple's iOS 7 operating system.
The German Olympic Sports Confederation denies those theories:
The DOSB spokesperson, Christian Klaue, told Die Tageszeitung that "the uniforms are not a protest," and said that the designs had been finalized before the Russia protests had even begun. Michael Vesper, general director of the DOSB, said, "This is just a fashionable jacket.
What do you think?