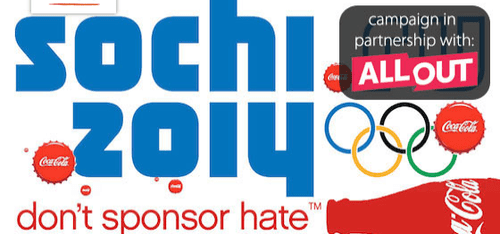 Over the past week or so, Coca-Cola executives have been quietly meeting to decide whether or not to speak out against Russia's horrific anti-gay laws. LGBT advocates and organizations, meanwhile, have begun pressuring the company through social media blasts and an online petition in the hopes of getting the major Olympic sponsor to stand firmly on the side of equality and human rights.
This isn't the first time that Coke has had to deal with the outcry surrounding Russia's anti-gay crackdown however. Back in August, in response to a Queer Nation protest of Coke in Times Square, the company issued a statement defending its sponsorship of the 2014 Sochi Olympics and touting its own LGBT inclusively in the past. The statement also included a vague condemnation of any "human rights abuses, intolerance, or discrimination" that might be going on around the world. But so far, the company has remained silent on directly addressing Russia's anti-gay regime. That may very well change this week if supporters can show Coke how many people want the company to speak out against the oppressive laws.
Other Olympic sponsors, including McDonalds and Samsung, are waiting to hear what Coke has to say this week. Because Coke is such an influential mega-corporation, the company's decision may very well set off a domino effect that pushes other international sponsors to follow suit.
Coca-Cola has been a fantastic LGBT corporate ally in the past, having received a 100% on the Human Rights Campaign's Corporate Equality Index every year since it was first launched in 2006. It's time for the company to once again step up as a leader in the fight for LGBT freedom and equality.
To sign the petition asking Coca-Cola to condemn Russia's brutal anti-gay laws, click HERE.