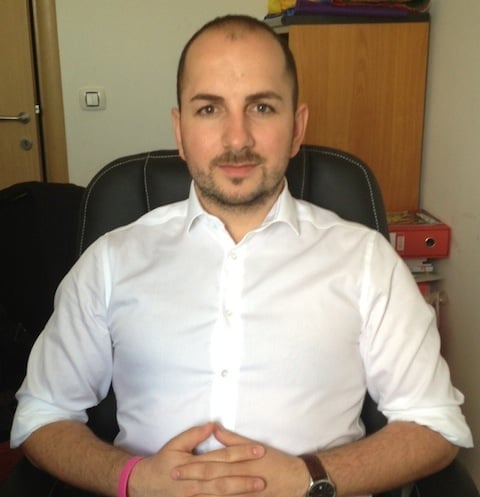 Zdravko Cimbaljevic came out in 2010 and earned the distinction of being Montenegro's first out gay man. From that moment on, his life got much more difficult. The death threats and assaults began almost immediately, Buzzfeed reports, with his father disowning him, his extended family cutting him off, his neighbor attacking him in the street, and receiving death threats like one posted in public that read:
With his blown-out ass, we announce that on the day of July 24 2013 in 12 a.m., in front of the Walls of The Old Town Budva, his soul will depart in death, our afflicted and never overf–ked brother … ZDRAVKO CIMBALJEVIC. Commemoration of the dearly screwed deceased will be held in former Government building.
Despite Cimbaljevic reporting all incidents to the authorities, and despite Montenegro having LGBT protections written into law to meet the requirements for admission into the European Union, no prosecutions have been taken. Fearing for his safety and believing that the authorities had no desire to halt his persecution, Cimbaljevic sought asylum in Canada this summer after the Pride march in Budva, an action he says he wouldn't have taken if just one person had been convicted.
This past Sunday the country's capital of Podgorica held its first-ever Pride march, which Cimbaljevic attended via Skype. Violence did erupt, but unlike the march in Budva, police in Podgorica locked down the parade route and protected the marchers from harm. The event was attended to and supported by government officials. 
Cimbaljevic's activism and coming out has helped to dramatically shift the climate towards homosexuals in the country in a relatively short amount of time.
"I was frightened in the beginning, but it really was easier for me than it was for Zdravko," [Stevan] Milivojevic said. Gay and lesbian issues have been part of the national discussion since Cimbaljevic came out — people are at least aware that LGBTs exist within Montenegro now. "My parents and friends and all my surrounding people supported me," he said.