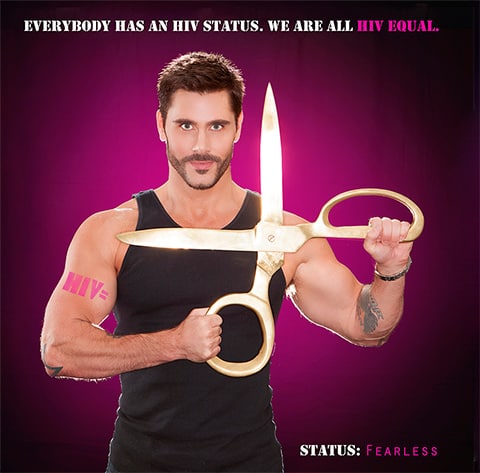 Project Runway alum Jack Mackenroth has joined with photographer Thomas Evans and Connecticut-based World Health Clinicians (WHC) to launch a new social media campaign, "HIV Equal," aimed at fighting the stigma surrounding HIV and encouraging people to get tested and know their status.
The campaign comes at a crucial time for HIV awareness, as 90% of new HIV infections are found in young men ages 13-34. For that reason, the campaign places a strong emphasis on testing in coordination with youth outreach.
Mackenroth, who has been HIV positive for twenty-four years, spoke out about his involvement with the project: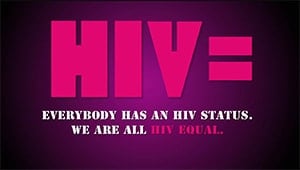 "Our goal is to photograph people from all walks of life who support ending HIV stigma, regardless of their personal HIV status. We launched the campaign with celebrities, politicians, artists and many recognizable faces in order to draw attention to our mission, but we plan to include everyone since HIV affects us all," Mackenroth explains. "HIV Equal goes a step further to include testing so that everyone photographed knows their status. We need to take care of ourselves and each other, as well as to reignite the global conversation about HIV to stop the spread of misinformation, fear and judgment."
More than just assigning people with labels of "negative" and "positive," "HIV Equal" highlights what people believe to be "a positive attribute that they see about themselves":
Individuals are photographed with a unique "HIV=" logo, which strategically appears on their body. As a play on the word "status," a unique caption will read 'STATUS:_______,' and every model picks a word that exemplifies one aspect of their personality. This alludes to the fact that who we are as people is much more important than an HIV status."
The campaign will officially launch this weekend at October 26, 2013 as part of World Health Clinician's LGBT wellness event (being held from 12-5PM at 618 West Ave, Norwalk, CT).
As Evans put it, "Regardless of our HIV status we are equally valuable human beings."
Check out a video featuring Mackenroth, Evans and other "HIV Equal" supporters AFTER THE JUMP…