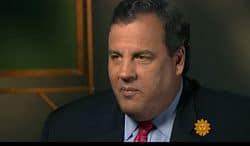 Earlier this week, New Jersey Governor Christie filed a request for a stay of Judge Mary Jacobson's decision, handed down last month that ruled gay marriage must be made legal in the Garden State, especially in the wake of the U.S. Supreme Court's gutting of Section 3 of DOMA. In her decision Jacobson stated, "The ineligibility of same-sex couples for federal benefits is currently
harming same-sex couples in New Jersey in a wide range of contexts." In his request of a stay, Christie's filing essentially argued that "allowing gay couples to marry starting in two weeks would make it
difficult for the state's top court to reverse course should it agree
with the Christie administration's anti-gay marriage stand." However, as Lambda Legal announced, the request for the stay was denied:
In today's decision, the Court wrote:
"In making this argument, however, the State ignores the largely
abstract nature of the harm it alleges, which pales in comparison to the
concrete harm caused to Plaintiffs by their current ineligibility for
many federal marital benefits, and the significant litigation burden
they would have to shoulder to challenge federal denial of marital
benefits to civil union couples."
"This is wonderful news!" said
Hayley Gorenberg, Deputy Legal Director of Lambda Legal. "The court's
decision once again confirms that the hardships of not being able to
marry are real and immediate. Every day does count. Allowing same-sex
couples to marry helps many New Jersey families and hurts no one else."
"Momentum
is with us," said Troy Stevenson, Executive Director of Garden State
Equality. "All couples in New Jersey need the dignity of marriage, and
they need it now. We look forward to seeing many of them, who have been
denied that dignity for too long, marry in the coming weeks."
The stay being denied, gay marriage is set to begin, per Judge Jacobson's ruling, on October 21. However, Christie, who recently reiterated his insistence that gay marriage should be put on the ballot in 2014 and not be decided by the courts, has now, according to the AP, asked "an appeals court judge to consider
an emergency challenge to that order. Christie wants same-sex marriages
put on hold at least until all appeals can be resolved."