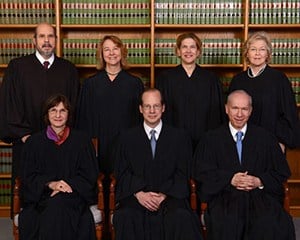 In response to Governor Chris Christie's "emergency" filing, appealing a lower court's decision to uphold Judge Mary Jacobson's ruling that same-sex marriage must be made legal in the Garden State following the destruction of section 3 of DOMA in United States v. Windsor earlier this year, the New Jersey state Supreme Court decided to consider the merits of the case in question and the request for a stay. If granted, the stay would prevent same-sex couples from marrying while the court decided whether to uphold or reverse Judge Jacobson's decision.
As the AP reports, in Christie's filing he argued that New Jersey's Supreme Court should consider the marriage equality case because no one judge should be allowed to make so momentous a decision:
"To overhaul such an ancient social institution prematurely,
precipitously, or in a manner ultimately deemed unnecessary would injure
not only the public interest, but the State that represents this
interest," the state attorney general's office said in its brief."
The decision on whether to stay Judge Jacobson's ruling is expected to happen "within days" so as determine whether same-sex couples can begin to marry starting October 21 as Jacobson had ordered. However, the court will not consider the merits of the marriage case itself until January.
Lambda Legal spoke out on the court's intervention:
"Time is of the essence and it's great the court is moving so quickly,"
said Hayley Gorenberg, Deputy Legal Director of Lambda Legal. "We are
looking forward to making our case at the New Jersey Supreme Court for
the families in New Jersey who need marriage to better protect their
families."
UPDATE: You can find all the official court documents associated with the case HERE.