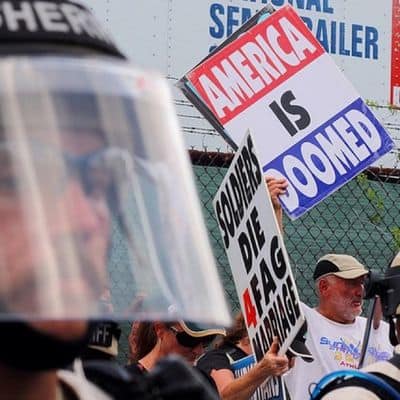 A new study by a team of researchers from Ohio State and Boston Universities found that conventional public opinion surveys tend to underestimate the number of individuals who hold anti-gay views while also under-reporting the proportion of LGBT individuals in the general population. Pew Research Center details the report's findings: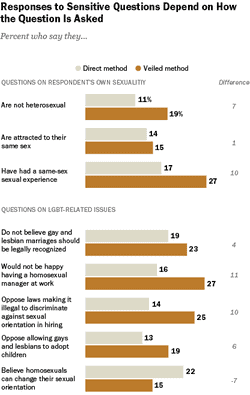 [The researchers] used a novel research method that, in addition to the usual privacy and anonymity afforded by the best practice survey techniques, goes further and makes it virtually impossible to connect individual respondents with their answers to sensitive questions. They call this technique the "Veiled Report" method.
Then they compared their findings with the results obtained as part of the "Veiled Report" experiment with responses from a control group that answered questions posed in a more conventional way. Their goal was to see how social desirability bias- the tendency for people to not reveal behaviors or attitudes that they fear may be viewed as outside the mainstream – may affect reporting on these sensitive topics. 
In the results using the experimental technique, self-reports of non-heterosexual identity amounted to 19% of those surveyed using the Veiled Report methods – 65% higher than the 11% in the control group. The share reporting same-sex experiences also grew from 17% in the control group to 27% in the Veiled Report group, they reported. (Because their experiment did not use a random sample of the adult population, the researchers do not attempt to estimate the actual size of the country's gay and lesbian population.)
The experimental method also increased the rates of anti-gay sentiment. For example, the share who disapproved of having an openly gay manager at work increased from 16% in the control group to 27% in the Veiled Report group. The proportion who thought it should be legal to discriminate when hiring on the basis of sexual orientation also rose form 14% to 25%.
To read the full report, click HERE.