Harry Styles plays volleyball down under.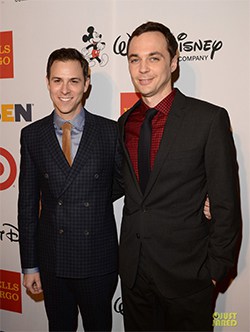 Jim Parsons makes first official public appearance with boyfriend Todd Spiewak, jointly receiving GLSEN's Inspiration Award.

Lady Gaga will be joining forces with The Muppets for a holiday special this year. Hopefully she won't be wearing any of them.

Art imitates life? "Former Vice President Dick Cheney says he once feared that terrorists
could use the electrical device that had been implanted near his heart
to kill him and had his doctor disable its wireless function…Years later, Cheney watched an episode of the Showtime series Homeland in which such a scenario was part of the plot. 'I found it credible,' Cheney tells 60 Minutes in a segment to be
aired Sunday. 'I know from the experience we had, and the necessity for
adjusting my own device, that it was an accurate portrayal of what was
possible.'"

Who do you think should replace Charlie Hunnam as Christian Grey in the Fifty Shades of Grey adaptation? 12 suggestions.

Violin from the Titanic that played while the ship sank sells for $1.7 million at auction.

With the government back in business, the National Zoo has re-opened. You know what that means. Panda-cam is back.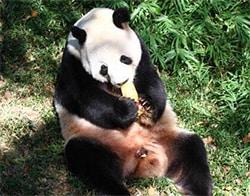 Nate Silver discusses the launch of FiveThirtyEight on ESPN: "It'll be no subscription fee, we hope you guys click on the banner ads
or the sponsorships…The content plan is
to cover three buckets that are about equal in size — one being kind of
politics and political news, of course emphasizing elections still very
heavily, one third being sports and one third being everything else put
together. So with a special emphasis on economics, for example, maybe
topics like education."

Apple says it can't intercept iMessages. The Washington Post: it's 'semantics.'

Lacking inspiration for your Halloween ensemble this year? Check out these 90s-tastic incarnations.

(Belatedly) celebrate the birthday of Teen Wolf's Tyler Posey in GIFs.

Britney Spears tells UK talk show host Alan Carr that "Work B**ch" is an homage of sorts to her gay fans: "I don't call everyone … that word. I just use it as, it's like in
respect to the gays as a term of endearment..It's like a
street slang for everyone, you know, like you get to work, that's what
you do when you get to work and it's, like, cool."