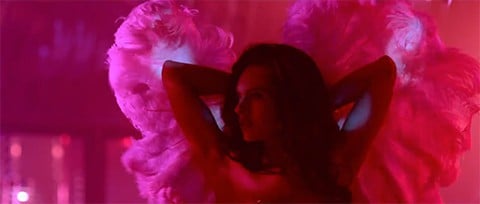 Singer-songwriter Matt Nathanson recently unveiled the music video for his song, "Kinks Shirt" about a guy and his infatuation with a tattoo-covered stripper in, what else, a Kinks shirt. When it came to shoot the video, however, Nathanson didn't want the same old "guy with guitar trying to look sexy" vibe so he turned to comedian and director Bobcat Goldthwait to come up with something more inspiring. The end result: the stripper at the heart of the song turns out to be transgender.
Bobcat told Rolling Stone:
"Honestly, I pitched this idea just to see the look on everyone's face," the filmmaker says. "I still can't believe we made it. When I heard Matt had a 10,000 Maniacs tattoo I thought I would hate him, but turns out he's an okay guy."
Nathanson was thrilled with Bobcat's idea, sharing his enthusiasm on Facebook: "i flipped. i loved it. i loved that it showed people unapologetically being themselves, even if the world may not be hip to it. yet."
Check out the video along with a few behind the scenes photos (via Facebook) from the shoot AFTER THE JUMP…