VIDEO: Australia is burning, and it's terrifying.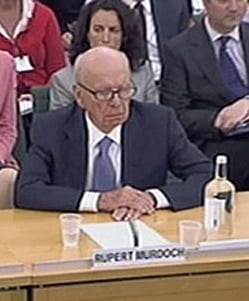 Murdoch bio: FOX News used "elaborate series of dummy accounts" to rebut critical blog posts.

Cat caught smuggling marijuana.

Australian Capital Territory marriage bill to be amended: "Legal experts argued a bill, which will be debated in the ACT Legislative Assembly on Tuesday, was in danger of being overturned because it sought to allow marriage for any person who cannot be married under the federal Marriage Act."

American teacher voted Mr. Gay Hong Kong.

J Crew makes a discreet arrival in London: "The American brand has just opened its first store outside North America on London's Lamb's Conduit Street, that cute hidden shopping promenade in Bloomsbury. It's a tiny menswear store offering several varieties of J.CREW's wonderful LUDLOW suit plus a fine selection of shirts, socks, ties, etc. … There's not even a big J.CREW sign or logo on the store's façade. The enterprise is simply called 'Thirty-Eight Lambs Conduit'."

Kelly Clarkson got married.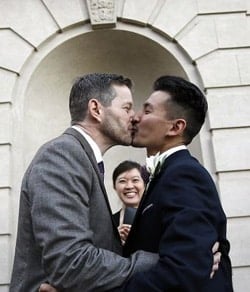 Immigrant tech entrepreneur Alfred Cheung gets to come out of the shadows after wedding boyfriend of six years. "Besides marrying someone I love, I have optimism about my future clearing up," he said. "It's like coming out of the closet again."

Things that don't matter.

Young people in Japan have stopped having sex. "Japan's under-40s appear to be losing interest in conventional relationships. Millions aren't even dating, and increasing numbers can't be bothered with sex. For their government, 'celibacy syndrome' is part of a looming national catastrophe."

Gay sports leagues gaining ground against bars as a place for LGBTs to meet:
"Gay bars remain a popular social gathering place, but a new generation
of sports leagues is offering an alternative to a late-night lifestyle
that some find unhealthy or unappealing. The leagues, which are popular
in Chicago, New York City, San Francisco, Boston and numerous other
cities, are part of what many see as a generational shift in the gay
community."
J

ohnny Depp goes blond.

Male model fix: Chris Delbeck.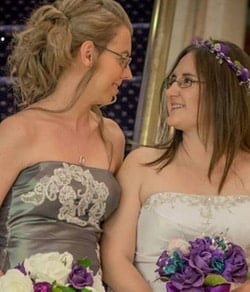 Oklahoma Tag Agencies refuse ID to legally married same-sex couples: "How can Sara book her flights when her Social Security number doesn't match her ID? How will she cash her paychecks issued in her married name without having a license showing the same name? How will she file taxes without showing identification that matches the Social Security number she's filing under?"

Jennifer Howard, an out lesbian, has been named Finance Minister in Manitoba.

One Direction's Liam Payne does some surfing in Australia.

L.A. Gay & Lesbian Center raises $2.9 million at benefit: "[CEO Lorri] Jean told the crowd — which included [Roland] Emmerich's fellow hosts, screenwriter Dustin Lance Black (J. Edgar, Milk), entertainment lawyer Alan Hergott, CAA's Bryan Lourd, Glee's Jane Lynch, Real Housewife Lisa Vanderpump, producer Michael Gordon and mogul Russell Simmons — that recently 134 youth had come to the center's facilities for help in a single day – a vast increase over the 35 or so youth who typically turned up every day before."