Neil Patrick Harris and David Burtka up the adorable quotient, dressing the entire family in costumes from Alice in Wonderland for a Halloween party yesterday. The duo dressed up as Tweedledee and Tweedledum while daughter Harper went as Alice and son Gideon as the March Hare.

Shia LaBeouf tweets semi-full frontal still from upcoming flick, Charlie Countryman (possibly NSFW).

We're only hours away from marriage equality in New Jersey!

Speaker of the House John Boehner on why the government shutdown ensued, after he promised it wouldn't: "I got overrun, that's what happened."

In San Francisco, two Bay Area Rapid Transit (BART) workers were hit and killed by train one day after BART union workers went on strike.

Picasso overload: 29 works by the famed Spanish painter hit the auction block at the same time.

Suicide bombing in Baghdad kills 35, wounds 45.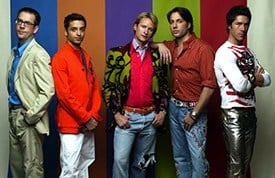 Benedict Cumberbatch's WikiLeaks thriller The Fifth Estate bombed this weekend. Still, some might be interested in seeing Cumberbatch as a Disney prince. Any Disney prince.

As previously reported, Bravo's Andy Cohen will be hosting a ten year reunion of Queer Eye for the Straight Guy tonight. Will you be watching?

White House brings in 'best and brightest' to help fix Obamacare website.

Ben Cohen's StandUp Foundation, an organization that works to eradicate bullying and advance equality, has a new line of t-shirts, hats and hoodies available for purchase.

Archaeologists unearth pre-Viking age monuments in Sweden: "As archaeologists dug in preparation for a new railway line, they
found traces of two rows of wooden pillars in Old Uppsala, an ancient
pagan religious center. One stretched about 1,000 yards (1 kilometer)
and the other was half as long. Archaeologist Lena Beronius-Jorpeland said the colonnades
were likely from the 5th century but their purpose is unclear. She
called it Sweden's largest Iron Age construction and said the
geometrical structure is unique. Old Uppsala is known as a center for Norse religion, where believers
gathered to sacrifice animals to gods such as Odin and Thor. The
colonnades were found near a famous burial site where the three Iron Age
kings Aun, Egil and Adils are believed to be buried."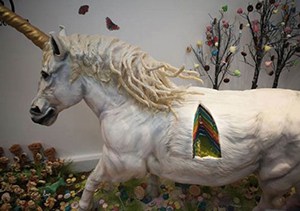 Apparently it was national baking week in the UK. This seems like an appropriate way to commemorate the occasion.

Katy Perry drops new lyric video for "Unconditionally."

Sandra Bullock demonstrates what commitment to your Halloween costume really looks like.

Bluegrass group Beef Seeds offers rousing rendition of Lorde's "Royals."