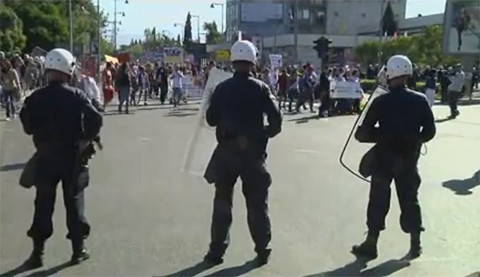 As planned, Montenegro's capital of Podgorica held its first gay pride march today. While only an estimated 150 people marched, the event drew approximately 1,500 extremists who sought to disrupt the event, ultimately forcing police intervention, The Guardian reports.
Montenegran President Filip Vujanović had previously promised the group Queer Montenegro, who organized the march, that the government would do everything within its power to guarantee the safety of those involved. By all accounts, the government seems to have made good on that promise. Despite an explosion at the perimeter of the march, a barrage of rocks being hurled at marchers, and twelve protesters who came armed with molotov cocktails (all of whom were arrested by police), there are no reports that anyone who took part in the march was injured, according to BuzzFeed. Two thousand police officers, approximately fifty-percent of Montenegro's entire police force, were on hand for the event, Historia IME reports. Twenty police officers were injured and fourty extremist "hooligans" were also hurt as Police and anti-gay protesters butted heads throughout the day.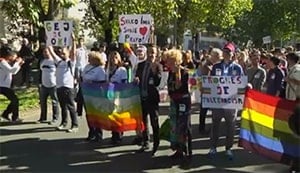 The march in Podgorica comes as just the second Pride event in the country's history. As previously reported, the small town of Budva held its first Pride in July of this year. That event was also marred by the presence of anti-gay protesters. However, an important distinction between the march in Budva and the one in Podgorica was the presence and involvement of the government. BuzzFeed reports:
Activists were heartened by the presence of Montenegro's minister of human and minority rights, Suad Numanović, which they took as a gesture of the government's commitment to protecting LGBT rights. No government officials took part in the Budva march.
"In Budva, the message was … this is the Montenegro which does not support LGBT people," said Ljiljiana Reicević, a march participant who also attended the Budva pride march. "But Podgorica is totally different. It proves that the government is stating, 'No, We will not allow this [violence], we will stop this, and we will protect you.'"
Many have speculated that Montenegro's desire to join the European Union is a key factor behind the government's staunch support for the march in Podgorica, especially considering that dignitaries such as Mitja Drobnič, head of the European Union's mission to Montenegro, and Laurent L. Stokvis, the Dutch ambassador to Serbia, were on hand for the event. Moreover, as BuzzFeed notes, Minister Numanović seems to believe that "Demonstrating progress towards securing LGBT rights is crucial to Montenegro's aspirations to one day be part of the European Union":
"On the road to European integration, the government of Montenegro has shown its democratic capacity [and the pride march] shows that Montenegrin society is maturing in the protection of all minorities, including members of the LGBT community," he said.
That was the message received by Ambassador Stokvis. "I think it is of great significance that the LGBT community here is holding this pride [and] that it is being supported and it is being safeguarded by the Montenegran government," he said. "This of course a sign of democracy, about the right to assemble, the right to demonstrate, and the right to free speech … important values for all of us, for the European Union and for the Netherlands in particular."
Check out some incredible photos via Joe.My.God and a video of the march AFTER THE JUMP…