Two weeks ago, Towleroad reported that two Republicans, Holly Schepisi and Declan O'Scanlon, and two Democrats, Wayne DeAngelo and Gabriela Mosquera, said they would be voting to override Chris Christie's 2012 veto of the marriage equality bill.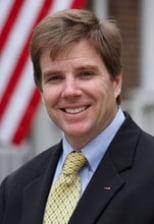 Another Republican who voted against the marriage equality bill in 2012 now says he'll vote to override Christie's veto if the vote comes up, Politicker NJ reports:
Assemblyman Chris A. Brown said during a Wednesday evening legislative debate he would vote to override the Republican governor's veto. Brown's announcement marks the first time during the lead up to an override vote that a lawmaker who voted against the same-sex marriage bill last year publically announced they would change their vote.
"This is a decision I came to on my own," Brown said following the debate after telling Atlantic City residents civil rights shouldn't be decided by a ballot referendum – as Christie has advocated.
"I just believe when it comes to civil rights, I don't believe it's appropriate for the public to vote on it," he said.