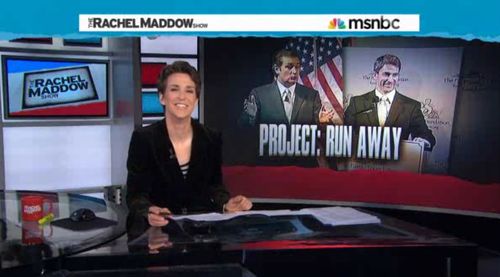 Rachel Maddow, MSNBC's resident master of witticism, ripped into Virginia's gubernatorial candidate, and current attorney general Ken Cuccinelli on Monday night, tracking his terrible day of politics through a few successive steps.
First, headlines blared across the nation that the Supreme Court had denied his request to stay the ruling from his state deeming its sodomy laws unconstitutional. Second, Cuccinelli had to deal with the repercussions of a previous decision to host Texas Senator Ted Cruz who has now become a poster boy for the government shutdown (which has hit VA particularly hard). Finally, Cuccinelli has fallen down in the polls, sitting nearly 10 points behind his democratic adversary. 
As Maddow said, Cuccinelli has faced a lot of "terrible, horrible, no good, very bad political" developments in the last 24 hours. With his staunchly conservative social politics, can we really feel bad for the guy? 
Watch the video, AFTER THE JUMP…
Visit NBCNews.com for breaking news, world news, and news about the economy