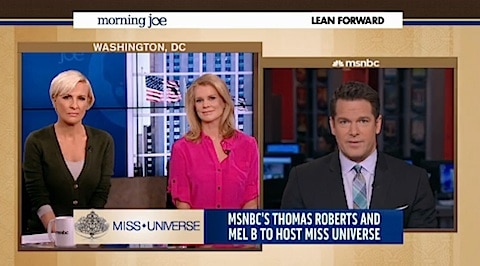 Thomas Roberts appeared on Morning Joe this morning to elaborate on a statement he made yesterday on MSNBC explaining why he is going to Moscow to host the Miss Universe pageant despite calls for a boycott of the country over Russia's anti-gay laws.
Says Roberts:
"Patrick (his husband) and I have discussed this. We understand that we go on a different privilege than a lot of other people are that live in Russia right now. We live here in the s ates under a different set of privileges. Right now marriage equality is still a big battle. ENDA continues to be a battle in Washington DC. We understand what the home turf is like. I want to go and educate myself on what Russia's turf is like. I want to be able to carve out how I can cover and do stories for our network that way and show first hand what it's like to be there. But I know that I'm going to be treated completely differently. So there is a bit of hypocrisy that goes along with that – a tremendous amount of hypocrisy that goes along with that – so I hope to shine a bright light on that."
No doubt many will be watching to see what form that light takes.
Roberts also responds to some of the reactions he has received. Roberts also tweeted that he'll address it on his show this morning and Donald Trump, who sponsors the pageant, will appear, along with his co-host Melanie Brown.
Watch, AFTER THE JUMP…