Supreme Court Justice Antonin Scalia told Reuters he's "waiting for the second shoe to drop" to express his views on gay marriage: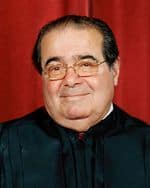 "I haven't expressed my view about gay marriage," Scalia, a noted conservative said, adding that the decision itself only applied to a narrow piece of the 1996 Defense of Marriage Act.
"The issue in the DOMA case was not whether the Constitution requires states to allow gay marriage. That was not the question at all," Scalia said at Tufts University in Medford, Massachusetts, outside Boston. "The question is whether Congress can define marriage in all of the statues that Congress enacted to mean only marriage between a man and a woman."
In his dissenting opinion on that ruling, Scalia, who was appointed to the court by President Ronald Reagan in 1986, wrote that the majority ignored procedural obstacles he said should have prevented the court from taking up the matter in the first place.