An imam in Russia's Muslim Republic of Tatarstan is calling for a boycott of Elton John, calling the singer "the debil's work in the shape of a pederast," RIA Novosti reports: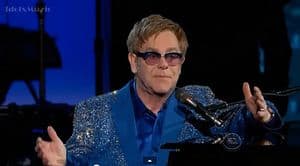 Promotion of same-sex relations could send the republic's capital Kazan down the same road as Sodom and Gomorrah, the ancient cities destroyed by Allah as punishment for the sexual delinquency of their inhabitants, imam Seidzhagfar Lutfullin warned.
"Sodomy…is what the world famous homosexual Elton John, who recently wed a man in public, is promoting," said Lutfullin, the imam of Kazan's Thousandth Anniversary of Islam Mosque.
Lutfullin called on believers to stay away from Elton John's show in Kazan and recommended they warn relations and colleagues to do the same "because they may not know," he said.
Said the cleric: "Divine retribution for taking part in a hotbed of sodomy will fall both on those who attend the concert and those who perform there."
Elton John is scheduled for two dates in Russia, December 7 and 8, in Moscow and Kazan, respectively.
Elton has said he would not boycott the country because he needed to go to support the LGBT community there:
"I'm supposed to be going to Moscow in December.I've got to go. And I've got to think about what I'm going to say very carefully. There's two avenues of thought: do you stop everyone going, ban all the artists coming in from Russia? But then you're really leaving the men and women who are gay and suffering under the anti-gay laws in an isolated situation. As a gay man, I can't leave those people on their own without going over there and supporting them. I don't know what's going to happen, but I've got to go."
He later said he would not speak out against the government from his stage:
You don't just go in there with guns blazing and say, 'Well, to hell with you.' Because they're going to say, 'To hell with you, and get out of the country.' That's not going to solve anything. But if I can go there, maybe I can talk to some people in the administration.