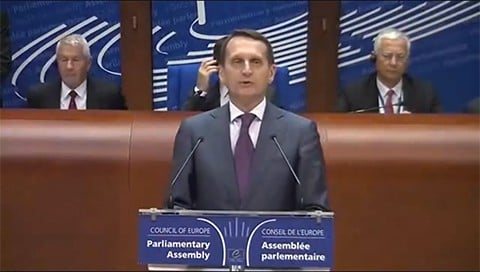 Speaking at the Parliamentary Assembly of the Council of Europe (PACE) in Strasbourg, France on Tuesday, Russian State Duma speaker Sergei Naryshkin attempted to refute the charge that Russia's anti-gay laws negatively impact the rights and freedoms of gay Russians. Naryshkin suggested that one need only make a trip to Moscow's gay clubs to see that the rights of those with "non-traditional sexual orientations" are protected, as Rapsi News reports:
"We have a lot of accomplished people here with non-traditional
sexual orientation. They succeed in business, art and any creative
sphere… They have the right to safe recreation in Moscow and other
Russian cities. There are a lot of gay clubs. I personally have not been
in one, but word goes around that people have a good time there,"
Naryshkin said during a PACE session.
"If you want confirmation on this, I invite you to come to Moscow.
Sadly, I won't be able to go with you, but I will definitely take care
of you," the State Duma speaker added. The speaker stressed that the
people with non-traditional sexual orientations enjoy the same volume of
rights as people with traditional sexual orientations.
Naryshkin also stressed Russia's conservative roots, explaining that the country has "retained Orthodox values, including the
traditional family," according to RT.com. In a further attempt to make clear how Russia's gay propaganda law does not limit or violate the rights of gay Russians, but instead only protect children, Naryshkin stated: "If you can't cross the road at a red light, that does not
mean that you cannot walk down the streets."