The New York Times reports that Stephen Sondheim is working with director John Tiffany on a new production of his 70's musical Company that would be centered around a gay man: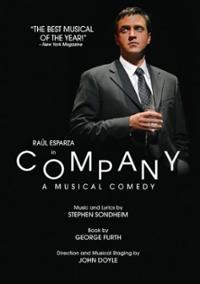 The biggest change in this new "Company" would be the central character of Bobby. Whereas he has always been a straight man struggling with commitment issues and multiple girlfriends, he has been reconceived by Mr. Tiffany as a gay man with commitment issues and multiple boyfriends. And some characters have had gender reversals; the character of Joanne, who sings "The Ladies Who Lunch" and was originally played by Elaine Stritch on Broadway, is being played by the Tony winner Alan Cumming ("Cabaret") in Mr. Tiffany's reading of the work at Roundabout this week.
For years Mr. Sondheim and the musical's book writer, George Furth, who died in 2008, batted back suggestions that Bobby was furtively intended to be a closeted gay man. But when Mr. Tiffany proposed actually making Bobby gay, Mr. Sondheim said in a telephone interview on Tuesday, the idea intrigued him.
The Roundabout is holding a performance for a private audience on Friday starring Daniel Evans as Bobby. Bobby Steggert and Michael Urie are in the cast. A decision on whether to move forward with the production will be made soon thereafter.