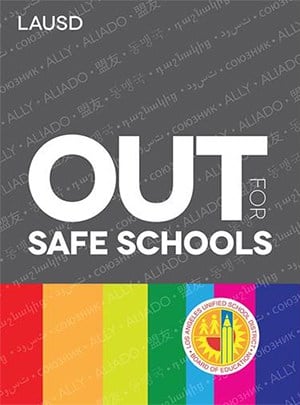 In advance of National Coming Out Day tomorrow, the LA Gay and Lesbian Center and the Los Angeles Unified School District (LAUSD) have announced a new initiative, "Out For Safe Schools" that will see thousands of LAUSD employees show their support as allies for LGBT students and staff. More than 30,000 LAUSD workers, approximately 1/3 of the district's entire staff, have already pledged to wear rainbow badges (pictured top right) and "come out" as LGBT allies. The badges, which have the word "ally" written in seven languages, provide information on resources for LGBT students (below right) but are also aimed to make students feel more accepted:
"We want all our youth and staff to know that is it safe to be you in LAUSD," said Superintendent Dr. John Deasy.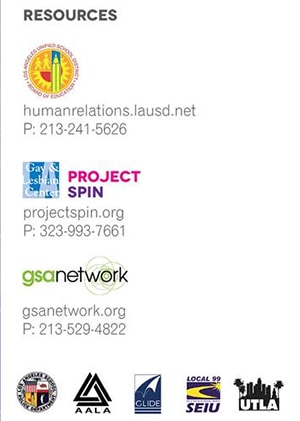 LAUSD
has more than 655,000 students enrolled in grades K-12, and its
research indicates nearly 11 percent may identify as
LGBT.  Additionally, 16 percent have LGBT family members.
 
"Every
day, LGBT kids are vulnerable to taunts and abuse—physical and
verbal—simply because they're different," said Alan Acosta, the Center's
Director of Strategic Initiatives.  "Beginning tomorrow, every one of
L.A.'s 655,000 public school students will know and see there are adults
at their school who support and care about LGBT kids.  I applaud the
district for stepping up its efforts to support school communities by
encouraging its staff to become visible allies. In the eyes of an LGBT
student or family member, seeing all of these adults on campus wearing
'ally' badges will be a welcomed sight. More than that, it sends an
important message of acceptance."
Getting in on the action is a broad swath of school district employees. "We're talking about every type of staff member wearing these badges: principals,
cafeteria workers, bus drivers, teachers—you name it!" said Gil Diaz of the LA Gay and Lesbian Center. The initiative was developed and funded by SPIN, the Center's Suicide Prevention Intervention Now project. 
Tomorrow looks to be an inspiring day in Los Angeles public schools.