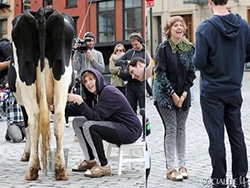 All Kanye all the time: Mr. West takes over Kimmel, says Kim Kardashian deserves a star on the walk of fame.

Andrew Sullivan on the ever-shrinking Republican Party: "There is effectively no Republican party any more. There is a radical
movement to destroy the modern American state and eviscerate its
institutions in favor of restoring a mythical, elysian, majority-white,
nineteenth-century past."

Don't eat cat vomit.

Usher reminds us he still has an impressive six pack.

Fed up with government shutdown nonsense, Jon Stewart turns to his wheel of happy stories. One of the options? "Full Frontal George Clooney," complete with a real NSFW image of full frontal nudity (though probably not of George Clooney, by the looks of it).

Lena Dunham milks a cow for Billy on the Street.

New trailer for American Hustle with Jennifer Lawrence and Bradley Cooper.

British boyband McFly goes camping. Thankfully, Attitude magazine was there to document.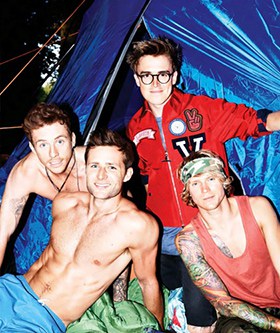 Queer Nation NY to protest at Carnegie Hall tonight: "Conductor Valery Gergiev, a longtime friend and supporter of Vladimir Putin, Russia's president, will appear at Carnegie Hall. Gergiev has refused to make any comment on Russia's anti-LGBT laws. He
was honored by the Russian government and the Russian Orthodox Church. Carnegie Hall has not responded to a request to oppose the Russian government's attacks on LGBT Russians. The demonstration at Carnegie Hall follows a recent action by Queer
Nation during the Metropolitan Opera's Opening Night Gala on September
23. Protesters inside the Met delayed the start of the night's program,
while protesters outside held signs and a giant rainbow flag banner to
demand that the Russian government repeal their anti-gay laws. Gergiev
led that performance as well."

The Jonas Bros reunion tour has been cancelled amidst rumors of a breakup.

Two years since his passing, the ashes of legendary gay rights activist Frank Kamey have still not been laid to rest.

Iam Somerhalder kissing and hugging adorable animals.

For the Bible tells me so? Academic claims Jesus Christ was invented: "Ancient confessions recently uncovered now prove, according to [American Biblical scholar Joseph] Atwill,
that the New Testament was written by first-century Roman aristocrats
and that they fabricated the entire story of Jesus Christ."

Priorities: the government may be shut down, but the congressional gym remains open.

Jude Law's son is kind of a Baldwin.