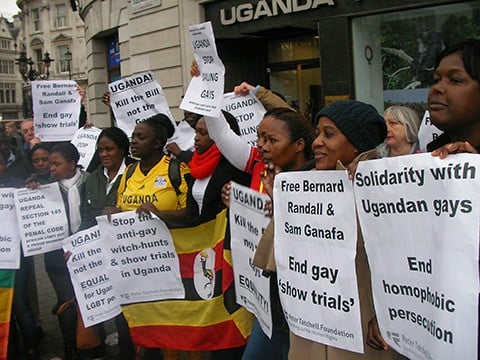 Last week we told you about a same-sex couple indicted in Uganda for "trafficking obscene publications" after a tabloid published pictures of the couple having sex. The incident began when the laptop belonging to Bernard Randall, 65, a British citizen and one of the men implicated, was stolen. The robbers found pictures of Randall and Albert Cheptoyek, a Ugandan man, having sex and sent the images along to a newspaper who subsequently contacted the police. Rather than arresting the robbers for stealing the computer, they instead arrested Randall and Cheptoyek.
The African LGBTI Out & Proud Diamond Group and the Peter Tatchell Foundation organized a protest in London Monday to coincide with the "show trials". They write:
The protesters chanted: "Free Sam! Free Bernard! Uganda – Repeal anti-gay laws" and "2-4-6-8. Uganda stop the hate. 3-5-7-9. Gay love is not a crime."
Ugandan gay rights leader Samuel K Ganafa appeared in court at Nabweru today, over allegedly trumped up accusations of sodomy and infecting a man with HIV. He was remanded in Kasangati prison until his next court date, 25 November. At least three of his colleagues may also face charges. Ganafa is the executive director of Spectrum Uganda and the Chair of Sexual Minorities Uganda (SMUG) .
The trial of a retired expatriate British gay man, Bernard Randall, and his Ugandan friend, Albert Cheptoyek, was adjourned this morning until 4 December at the Entebbe court. Bernard faces charges of trafficking obscene publications. This charge relates to private, intimate videos. These videos only became public and police knowledge after Bernard's laptop was stolen and his personal videos were leaked to the media. Albert is being charged with gross indecency.
As previously reported here, Uganda is far from friendly towards gay citizens and visitors, its parliament advocating consistently for a "kill the gays bill," a law "so broad that just about anyone can be convicted" of being gay and consequently be "liable to suffer death."
Activist Peter Tatchell, who took part in the rally in London, spoke out against Uganda's consistent abuse of human rights and in favor of the release of Bernard Randall, Albert Cheptoyek and Samuel Ganfa: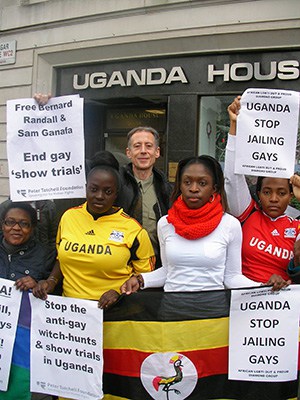 "We are protesting against the homophobic witch-hunts and show trials in Uganda. These prosecutions violate Uganda's own constitution and the African Charter on Human and People's Rights, both of which guarantee equal treatment and non-discrimination to all citizens. The criminalisation of homosexuality is contrary to these human rights obligations, which Uganda has agreed and pledged to uphold. All charges should be dropped and Uganda's colonial-era anti-homosexual laws repealed."
"Uganda is known as one of the worst countries in the world to be gay. The maximum penalty for same-sex relations is life imprisonment and a bill before the parliament in Kampala proposes the death penalty for repeat homosexual offenders. In addition, there are widespread homophobic threats and mob violence – often fuelled by anti-gay Christian fundamentalists who are supported by right-wing evangelical pastors in the US," said Mr Tatchell.
Check out a few more photos from the protest AFTER THE JUMP…