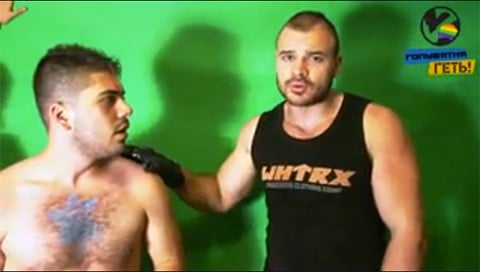 In July we told you about the Russian anti-gay group, "Occupy Pedophilia," its leader Maxim Martsinkevich and their use of social media to lure gay men into "honey traps," humiliating them and filming the encounters.
BuzzFeed reports that Martsinkevich, who previously served three years in prison for "inciting hatred" after shouting "Sieg heil" and "kill the liberals" at a political debate in 2007, has now fled Russia on an "urgent vacation" for Thailand to avoid being charged with extremism by Russian authorities:
The charges appear to be based on a video he filmed in Ukraine last month in which he trapped, humiliated and seemingly beat a gay man from Iraq. Prosecutors have yet to charge Martsinkevich, but police searched his and his parents' apartments last week.
The incident first came to light in Ukraine, where police in the eastern city of Lugansk launched a criminal case for "hooliganism" after members of the country's Iraqi diaspora complained about the attack. One member of the diaspora told a local tabloid that the targeted student had told them he had gone to meet a girl and was then attacked by seven men who threatened him and demanded money. The Iraqis went to file charges, but withdrew them after they saw the video, showing the man with boy presented by Martsinkevich as being 15 years old, and said they wanted the student to leave the country "so as not to cast a shadow on the rest [of them] […]
In the video, Martsinkevich confronts an Iraqi man expecting to have sex with a boy whom Martsinkevich says is 15 years old. He disrupts the Iraqi man in the middle of a shower, shaves his head in a reverse mohawk, paints a rainbow on his head and a star on his chest, and forces him to make a "confession." Martsinkevich is also seen brandishing a police baton before the video cuts to a screen saying "No To Violence" while the Iraqi man's bloodcurdling screams are heard.
You can watch the video in question AFTER THE JUMP… WARNING: The video contains disturbing and graphic images.