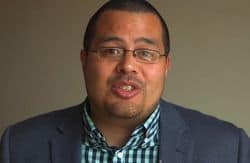 In a bizarre and confusing statement, anti-gay activist, 'ex-gay', and publisher-of-gay-fiction Robert Oscar Lopez compared the passage of marriage equality in Hawaii with that state's conflicted relationship to foreign adoption and "human trafficking."
It seemed as though Lopez was working off of the assumption that newly married gay couples will likely be looking to adopt from foreign nations, bringing populations into America through a process that may, in fact, be a part of some more illicit operation. How Lopez was able to get from the trade of human bodies to same-sex parents' adoption habits is less clear; he simply states, "They end up buying children overseas, regardless of if they want to call it that or not." No, Mr. Lopez, I doubt most gay parents would call it that.
Right Wing Watch reports:
"Look what they did in Hawaii, that's a state where over sixty percent of the population is Asian-American; they're the people who came from South Korea, from Japan, from the Philippines, countries that have a very, very controversial history with adoption," Lopez said. "And the predominantly white Human Rights Campaign went to Hawaii and ripped apart that state, you heard the testimony, they took a state and they just ripped at their heart."
Lopez explained that married same-sex couples "end up buying children overseas," which "echoes what happened in the past with the world wars in Korea and Vietnam where children were bought and sold because of couples that maybe thought they were doing the right thing but sometimes were also collaborating with human trafficking."
While his train of thought is rather difficult to follow, it is clear enough that Lopez is a damaging and damning voice in the anti-gay community.
Listen to the emphatic audio, AFTER THE JUMP…