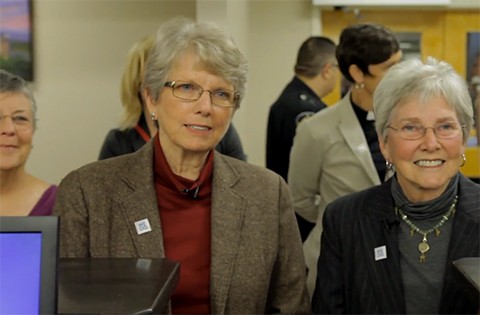 Last month we posted about the ground-breaking decision by Buncombe County, North Carolina Register of Wills Drew Reisinger to accept marriage applications from same-sex couples after his state's attorney general, Roy Cooper, came out in support of marriage equality.
A new video from the Campaign for Southern Equality highlights one couple that subsequently turned up to ask Reisinger for a marriage license, Brenda Clark and Carol McRory. Clark and McRory had sought a marriage license 4 previous times as part of the WE DO Campaign that urges same-sex Southern couples to seek marriage licenses from their local courthouses to help bring equality to the south. Said Clark of the couple's decision to actively fight for same-sex marriage, "You get to the point where you think, 'This is who I am.' And for what it's worth for the last number of years that we've got left, let's live this one honestly." Added McRory, "We take this action on behalf of all LGBT youth who cannot stand up and say 'I'm gay.'"
Clark and McRory had been rejected each time they applied. But as it turns out the fifth time was the charm. Reisinger told the couple,
"What we're going to do is we're going to give this to our attorney general and ask for his permission to grant y'all a marriage license. The United States constitution demands equal rights for all people and so that's what we're going to ask the attorney general to look over for us. And I am very proud of y'all for coming in here and thank y'all for your courage and thank you for consistently asking me for marriage licenses. Hopefully it won't be long til I can turn this back around to you."
Watch the emotional video about Brenda and Carol's battle AFTER THE JUMP…