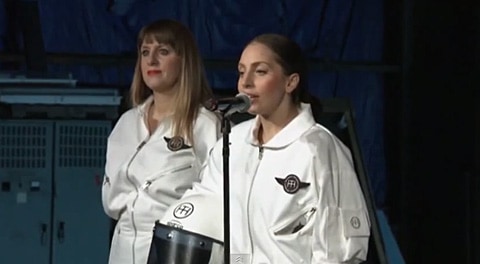 Lady Gaga demonstrated 'Volantis', the world's first flying dress, at the launch of her album ARTPOP last night in Brooklyn.
Behold as a pioneer in fashion aviation makes history, AFTER THE JUMP…
MTV News reports:
"Volantis is essentially a vehicle," Gaga told the crowd at the ARTRAVE of the dress, which is essentially a hovercraft-type vehicle/with a curvy, female silhouette serving as the body piece.
Gaga worked with engineer Benjamin and designer Nancy to create the fiber optic dress, which she later explained is symbolic for her. "I wanted to make today about something even more important to me. And what that something is the youth of the world. Benjamin and Nancy are here with me today. Their minds are just so boundless. They are so inspiring. Although she is a vehicle, she is essentially a metaphor for me," she said of Volantis. "I will be a vehicle today for their voices… Youth all over the world."