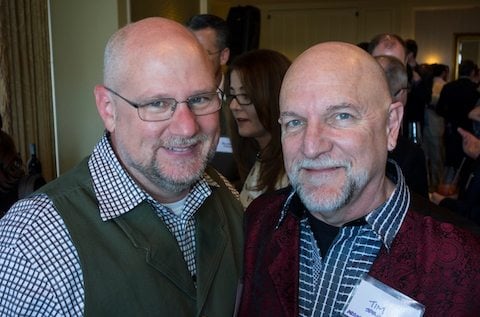 A few nights ago, Tim Seelig of the San Francisco Gay Men's Chorus received a phone call from a company called Best Vacations Ever offering a time share trip to Las Vegas, Orlando, and New Orleans. After consulting with his partner Dan England and deciding on a travel date, they bought the vacation package. All went well until Dan called the company yesterday to book reservations and the representative noticed that both names were male. From Tim's Facebook wall:
They were most helpful until [Dan] said the 2nd person was named Tim. They asked if that was a male? Seriously? She said, "Please hold a moment." After 5 minutes or so, she came back on line and said, "I'm so sorry, we don't allow same sex couples to use the Vegas vacation offer." We have spent the entire day in shock. Dan talked to 3 people at the company. I talked to another 3 people there. There is nothing to be done. They do not consider "co-habitating couples" to be within their demographic for potential time share sales, so we are not allowed.
Interestingly, "homophobic discrimination" is not listed on the website's "What You Can Expect" page. Feel free to let them know of this oversight through the use of their Contact page.
AN UPDATE from Tim Seelig:
Update on Vacation saga. In spite of 6 different people emphatically stating that they would not book a reservation for us in Las Vegas. I received this e-mail moments ago. By the way, many of you have posted on the company's web site! Thank you. It at least got their attention and that is the point of this entire mess. Who knows, maybe we'll even get them to zoom into this century and use the term sexual orientation instead of preference. 
Tim,
First and foremost I would like to express my most sincere apologies on behalf of the company for the way in which this matter was handled. Allow me to clear the air for you at this time.
In addressing Dan's request for reservations to our Las Vegas destination our customer care agent made a mistake, and informed Dan that he was unable to travel to Las Vegas due to his sexual preference. That information was entirely inaccurate. We accept all couples regardless of their sexual preference. We do not at this point, nor have we ever prevented a guest/couple from traveling to one of our properties due to their sexual preference. That is not our policy.
If you and Dan can find it in your hearts to forgive us for this huge error, and ultimately to give us another chance, we can assure you that we will do everything in our power to bring you back to the point in which you were at when you initially agreed to this purchase, as we are able to fulfill your package exactly as we initially promised intended to do.
Please advise;
Kenneth Branch
Preferred Guest Resorts
Quality Assurance Manager
407-215-2099 (Extension 22335)