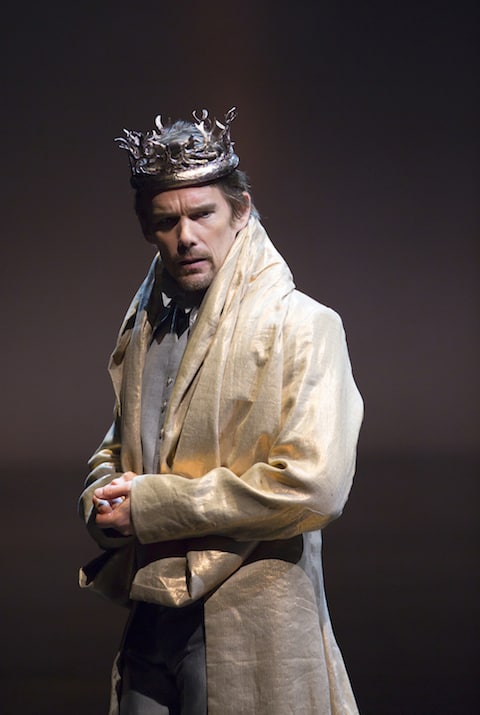 BY NAVEEN KUMAR
A lot of sound but not much fury suffuse director Jack O'Brien's cacophonous production of Macbeth starring Ethan Hawke in the title role, which opened on Broadway November 21st in a Lincoln Center Theatre production at the Vivian Beaumont Theatre. Only a handful among the mostly misused cast of talented actors escape Hawke's fate of being dwarfed by the production's overbearing design and concept.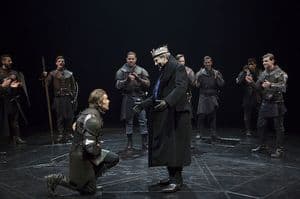 A note in the Playbill identifies the 'Seal of God's Truth,' a mandala with origins in the Hebrew Kabala's system of planetary magic, as inspiration for the circular markings on the stage floor and other elements of O'Brien's production. Set in what seems like a massive black void accented with expensive-looking set pieces by accomplished designer Scott Pask, the production indeed leans heavily on magic—of the sort conjured by both its designers and its witches.
Another of Shakespeare's deluded men who leaves a bloody trail on his way to the throne, Macbeth is told early on by three witches that he'll become king, thus planting seeds of ambition that fuel the rest of the story. O'Brien carves out a more significant role for his witches at nearly every turn, played here in a sort of monstrous drag by the estimable Byron Jennings, Malcolm Gets and John Glover. The three actors double as other characters throughout to make clear that the witches' magic (and, unfortunately, their magic alone) drives this production forward.
It's a compelling idea and one skillfully executed by the three men and Francesca Faridany as Hecate (their queen bee). But it takes the onus off Mr. Hawke (among others) to develop his character's own place in the story.
While his signature emo charm could be fitting for a somewhat reluctant villain arguably seduced by his wife into murder, Hawke often rushes through his performance without making sense of his lines (or even, at times, speaking them audibly). Far from a stranger to the stage, or to this particular stage where he earned a Tony nomination for his performance in O'Brien's productions of Tom Stoppard's Coast of Utopia trilogy in 2007, Hawke even has a knack for characters caught in a downward spiral (he played one Off Broadway in Clive earlier this year)—but his presence shrinks from the production's looming canvas.
Much acclaimed for her work in the West End, Anne-Marie Duff makes a resonant Broadway debut as Lady Macbeth despite an uneven showing from her sparring partner. In scenes that tend to emphasize her carnal influence over a weak willed husband, Duff brings a vigor and emotional precision to her performance that is refreshing by contrast.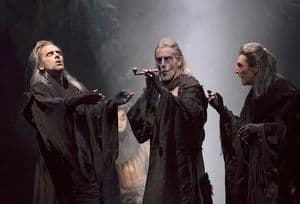 Shakespeare's shortest play certainly doesn't feel it here, and high concept design elements rarely allow a moment of the story to escape without being marked by some blunt, illustrative visual—a stark lighting special, a swelling sound cue, a murderer dressed in blood red.
By the time the witches light up a pipe packed with hallucinogens and pass it over to Macbeth in the play's second act, some of the production's manic, expressive energy begins to make a bit of sense—though unfortunately they don't pack enough for everyone.  
Recent theatre features…
Follow Naveen Kumar on Twitter: @Mr_NaveenKumar (photos: t. charles erickson)