Four of five women arrested last week for being "suspected "lesbians"in Senegal have been released, Voice of America reports: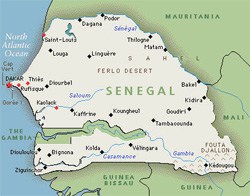 Four women accused of violating Senegal's harsh anti-gay law have been freed, after a court found there was not enough evidence against them.  But activists say the outcome will do little to ease pressure on the West African country's embattled gay community.  
 
The four suspects in Wednesday's case were arrested in the early morning hours of November 11 during a birthday party at a restaurant in Dakar's Yoff district.  A fifth woman arrested in the same raid is a minor and so will have her case processed separately.
 
Police who conducted the raid later testified the women were kissing in public, something they strenuously denied at the time and when they appeared in court earlier this week.
Homosexual acts in Senegal are punishable by up to five years in prison and a fine of up to $3,000.