On Thursday, we reported on Hawaii Rep. Jo Jordan, a lesbian, who made a "no" vote on the marriage equality bill. Jordan voted "NO" again last night at the bill's third and final reading.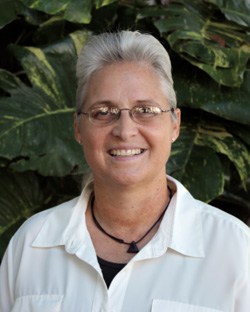 According to the Victory Fund, Jordan is the first openly gay lawmaker to ever vote "no" on a marriage equality bill.
Jordan had reservations about the bill before Hawaii's special session even began. Last week, she explained that she was undecided, because even though 75 percent of her constituents support marriage equality, she felt she had to represent the entire state. She seemed to be unaware that statewide polling showed a 55 percent majority support marriage equality.
The Supreme Court's decision overturning the federal Defense of Marriage Act (DOMA) did little to convince Jordan that the state's civil unions would no longer suffice: "Has anybody been denied before DOMA or after DOMA — what has changed in our state? These are questions that I still have to settle in myself and that's why I'm undecided."
Before the vote, Jordan explained herself in a long post at Honolulu magazine.
Writes Jordan, in part:
I'm choosing not to look at the news, but I hear I'm being blasted pretty bad.
As soon as I got off the floor, probably within the first half hour… (makes explosion noises) I want to have faith that it's the Mainland and it's not here. I'm like, "You don't know who I am, No. 1, because obviously you weren't in those hearings."
I totally thought I was going to get blasted by the religious community. When I walked into the hearings, I was like, those faith-based guys are going to come out. And not one of them said anything. They were more about, "Thank you, thank you for listening." And they didn't know who I was. Outside, I was Rep. Jordan sitting at the table. They had no idea who I was, or my lifestyle, and that's why I like it. Can we get to know each other before you know the rest of the stuff?
I was blasted by the GLBT community on Saturday, outside the door. That took me aback. At the time, I hadn't stated my position, and I was still undecided. These were testifiers the day before, saying, "How can you be undecided? You should be a 'yes.' Do you know what this means?" And I politely engaged with them: "I have some problems with SB1." I explained the issues and they slammed me again. "It's good. Just vote yes." They started getting boisterous. My natural instinct is, I'm going to fly some words at you. But you can't, so I'm like, "Thank you."
It has been interesting. I am not part of any faith-based group, so I walked in thinking those were going to be the ones going, grrrr, grrrr. But unfortunately, it's been coming from my community during the hearing. I was like, "Wow, so much for minorities that have been suppressed." But I've got to look at it this way: Maybe they feel they've been suppressed for so long that they no longer can contain it and they are just going to lash out at anything without thinking first. But I have to keep that faith to help me not take it personally. It's not about who is right and who is wrong. It's about, are we creating a measure that meets the needs of all?
Now that marriage equality looks almost assured to become law in Hawaii, Jordan will have to live with the fact that she voted against rights for herself and the LGBT community.