Jonathan Moscone (left), the son of San Francisco Mayor George Moscone, who was assassinated in 1978 with SF Supervisor Harvey Milk, married his partner on the mayor's balcony of SF City Hall on Friday, the NYT reports: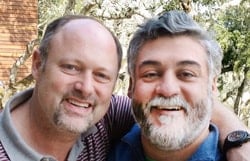 Mr. Moscone (left), 49, is the artistic director of the California Shakespeare Theater in Berkeley. He graduated from Williams College and received a Master of Fine Arts in directing from Yale…Mr. Carbonaro, 46, is the associate general counsel of Clean Power Finance, a company in San Francisco that manages and makes investments in residential solar power. He graduated from Drexel University and received a law degree from Pace.
The San Francisco Chronicle also covered the marriage:
"I now feel more cognizant of the connection between my father and the city and its history," Moscone said. "Sometimes it's hard to live inside all of that. But it's also why I love working and living here. It feels right."
The marriage also feels right, he said. Carbonaro, who loves to cook, is Sicilian. The Moscone family is Genovese.
"I proposed at the bar of the NoMad Hotel in New York in January," Moscone said. "It was spur of the moment, and I asked him to marry me by the end of the year."
Congrats!