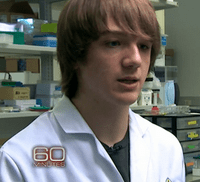 Jack Andraka, the 16-year-old openly gay science prodigy who developed a groundbreaking new way to test for pancreatic, ovarian, and lung cancer, was honored last week with an award at the Vatican for his outstanding achievements. WBAL News interviewed Andraka about his thoughts on receiving an award from the Catholic Church.
"It's really amazing to be recognized by the Vatican, especially as a gay scientist. I mean this would be unheard of just a few years ago. To be a part of this bridge of progress is really amazing." Andraka told WBAL News.
"It just shows how much the world has grown to accept people that are gay and are LGBT. It's really amazing."
Andraka received the International Giuseppe Sciacca Award, which recognizes youth who are positive role models and outstanding in their field. Currently he is on a trip to Berlin promoting "open access" to taxpayer-funded scientific and medical journal research.