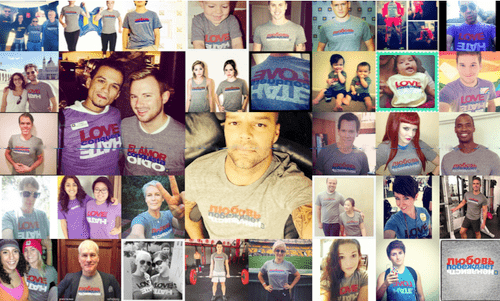 The Human Rights Campaign is looking to give Russia's LGBT Community a big boost of support leading up to the Sochi Olympic Games with the launch of its "Love Conquers Hate" solidarity campaign today.
Via press release: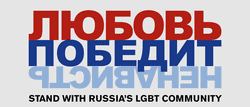 Participants will share a photo of themselves wearing the Russian-language version of HRC's iconic Love Conquers Hate t-shirt on their social media platforms with the hashtag #LoveConquersHate, encouraging their followers from around the world to do the same. Each photo that is shared with the campaign hashtag will be aggregated at www.loveconquershate.org. 100% of the net proceeds from the sale of the t-shirts will go to a fund that supports LGBT advocates in Russia.
The campaign site also features a diverse group of prominent celebrities, athletes, and politicians who are speaking out in support of the LGBT community in Russia and against the country's homophobic laws. Participants include: Jonah Hill, Kristen Bell, Fergie, Kelly Osbourne, Kevin Bacon, Jamie Lee Curtis, America Ferrera, Ricky Martin, Perez Hilton, Anthony Bourdain, Wentworth Miller, Tim Gunn, Jason Collins, and many others. 
Said HRC President Chad Griffin:
"Love and equality are universal values that aren't limited by language or national borders. We stand with Russia's LGBT community and their allies, and we are committed to doing as much as we possibly can to support their efforts to repeal this heinous law."
For more information on how you can join the cause, visit www.loveconquershate.org
And you can check out more celebrity photos of the campaign, AFTER THE JUMP…