In a series of tweets, Ireland Baldwin (Alec's daughter from Kim Basinger) defended her father on Twitter over the weekend, writing: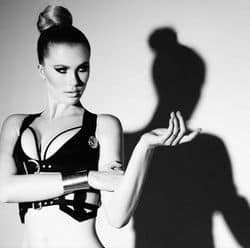 Sometimes we let our tempers get the best of us. Tempers are like wildfires. Something or someone can easily fuel the fire…It takes a lot of strength for someone to release their anger. It takes a lot of strength and SUPPORT for someone to grow and become a……better person. We all say things we don't mean. We all say things we can't take back…For someone who has battled with anger management issues, my dad has grown tremendously. My dad is far from a homophobe or a racist. From what you've read and from what media has been shoved down your throats, he has a kind heart. Having paparazzi following my mom and I has not been thrilling. Paparazzi can bring out many confined feelings of anger and spite out of anyone.
My point being, what my dad said was WRONG. What my dad felt WASN'T. Boundaries have to be made. Paparazzi have jobs to do, but some of them jeopardize people's lives and cross a line. My dad has an INFANT CHILD to protect. All the parents out there should understand. You would do anything to protect your baby. Now, let's all quit acting like children. Let my dad be and let him have his room to learn and enjoy his family. As someone very wise once said, "Be peaceful and love everyone" COME ONNNN EVERYONE. Let's just all be thankful that we are alive!
Baldwin's tweets appeared as the actor was defending himself of charges he is a "homophobic bigot" in a blog post at the Huffington Post.