A well-known Russian TV journalist is taking a page out of the Christian right-wing playbook of blaming natural phenomenon on the gays. RT.com reports: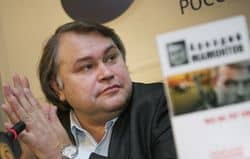 In a reference to the Old Testament story of the cities of Sodom and Gomorrah, famous journalist Arkady Mamontov said on his program that the fall of the Chelyabinsk meteorite on February 15 in Russia was related to the country's growing gay activity. Mamontov's program 'Special Correspondent' airs on state channel Rossiya 1.
The host called the meteorite a warning "to all of us that we should keep the family tradition, traditional love, or else something else – not only the Chelyabinsk meteorite – will hit us."
The Russian LGBT Network rights group filed a complaint with the prosecutor's office on Thursday. The group accused the show of hate speech, according to group chairman Igor Kochetkov. He said that Mamontov also claimed that gays and lesbians want to "destroy [traditional] Russia."
Mamontov has been on a bit of an anti-gay roll this past week, airing a documentary entitled "Litsedei" (Hypocrites) on Tuesday which detailed the alleged threat from Western countries that are trying to carry out a "gay revolution" in Russia by claiming that homosexuals are being oppressed.
As a result of the anti-gay vitriol, prominent Russian LGBT activist Nikolai Alexeyev has submitted a request to Moscow authorities to gain permission to stage a protest against Mamontov's show. Knowing Putin's oppositional stance on public 'pro-gay' rallies, however, makes approval seem unlikely.  
[picture via RIA Novosti / Ruslan Krivobok]