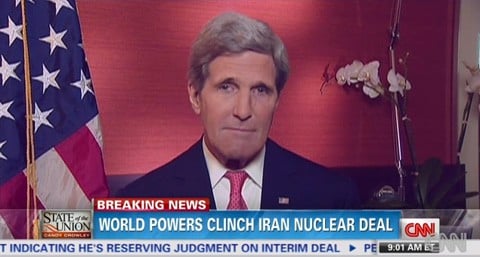 Secretary of State John Kerry appeared on CNN's State of the Union this morning to discuss the nuclear deal that would freeze Iran's nuclear program.
Watch Kerry defend the deal, AFTER THE JUMP…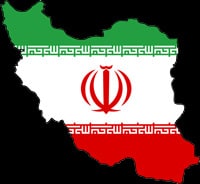 The details of the plan, via the NYT:
Iran, which has long resisted international monitoring efforts and built clandestine nuclear facilities, agreed to stop enriching uranium beyond 5 percent, a level that would be sufficient for energy production but that would require further enrichment for bomb-making. To make good on that pledge, Iran will dismantle links between networks of centrifuges.
Its stockpile of uranium enriched to 20 percent, a short hop from weapons-grade fuel, would be diluted or converted into oxide so that it could not be readily used for military purposes. Iran agreed that it would not install any new centrifuges, start up any that are not already operating or build new enrichment facilities.
The agreement, however, does not require Iran to stop enriching uranium to a low level of 3.5 percent, or to dismantle any of its existing centrifuges.
The paper adds:
Two former American national security advisers, Zbigniew Brzezinski and Brent Scowcroft, recently sent a letter to key American lawmakers endorsing the administration's approach. "The apparent commitment of the new government of Iran to reverse course on its nuclear activities needs to be tested to insure it cannot rapidly build a nuclear weapon," they wrote.
But some experts, including a former official who has worked on the Iranian issue for the White House, said it was unlikely that Iran's supreme leader, Ayatollah Ali Khamenei, would ever close the door on the option to develop nuclear weapons. Instead, they said, any initial six-month agreement is more likely to be followed by a series of partial agreements that constrain Iran's nuclear activities but do not definitively solve the nuclear issues.
Israel is not happy with the deal, wanting a stronger agreement that would have done away with Iran's enrichment program permanently.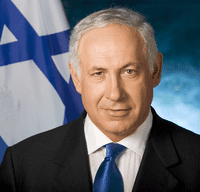 Tweeted Prime Minister Benjamin Netanyahu:
"This is not a historic agreement, it's a historic mistake. Lifting the pressure, this "first step", might be the last step. Like the agreement reached with North Korea in 2005, this agreement has made the world a much more dangerous place. For years the intl community has demanded that Iran cease uranium enrichment. Now it consents to it, in direct contravention of UNSC res. Iran is taking only cosmetic steps that could easily reversed, and in return, sanctions that took years to put in place will be eased. Without continued pressure, what incentive does Iran have to take serious steps that actually dismantle its nuclear weapons capability?"
Congressional Republicans are not happy with the deal, CNN reports:
In tweets and official statements, House and Senate Republicans argued that the administration was appeasing a duplicitous enemy without securing enough concessions in return.
"Unless the agreement requires dismantling of the Iranian centrifuges, we really haven't gained anything," tweeted Sen. Lindsey Graham, R-South Carolina.
"By allowing the Iranian regime to retain a sizable nuclear infrastructure, this agreement makes a nuclear Iran more likely," said Sen. Marco Rubio, the freshman Florida Republican and potential presidential candidate in 2016. "This agreement shows other rogue states that wish to go nuclear that you can obfuscate, cheat, and lie for a decade, and eventually the United States will tire and drop key demands."
Watch Kerry defend the deal, AFTER THE JUMP…