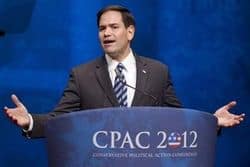 As the Senate prepares to vote on the Employment Non-Discrimination Act next Monday, speculation has now turned to who will be the key 60th vote necessary to avoid filibuster. All 55 Democratic and four GOP Senators have already committed to supporting the bill, and Majority Leader Harry Reid recently told Rachel Maddow "without question, we're going to get at least five Republicans."
Just don't count on Sen. Marco Rubio being that key vote.
"[Senator Rubio] believes people's qualifications, performance and honesty are the most important qualities by which they should be judged in the workplace. If you're a good worker, that's all that should matter," spokeswoman Brooke Sammon said. "This legislation goes far beyond protecting workers from discrimination based on sexual orientation, and he is currently studying what kinds of burdens it could impose on small businesses, frivolous lawsuits that could result, and ensuring that religious freedoms under the First Amendment are protected." 
When asked about ENDA at the annual Faith and Freedom Forum back in June, Rubio asserted that he's "not for any special protections based on orientation."
Who knew being able to safely be yourself at work counts as a special protection.