The upper house of the NSW parliament rejected a bill legalizing same-sex marriage, the Sydney Morning Herald reports: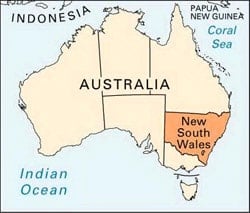 Despite initial hopes the upper house would pass the legislation, MPs voted against it by 21 votes to 19 in the Legislative Council on Thursday afternoon.
So why did the bill fail?
Mr Nile said he believed a decisive factor in the bill's defeat was Premier Barry O'Farrell's announcement that he would vote against the bill if it came before the lower house.
Mr O'Farrell revealed his support for same-sex marriage a day after New Zealand's parliament voted to change its national laws in April.
But in a statement released the night before the bill's introduction to the upper house last month, Mr O'Farrell said that while he was a supporter of marriage equality, he would not support the NSW legislation.
He argued that "only change enacted by the Federal Parliament can deliver true equality in our marriage laws".