Missouri Rep. Nick Marshall (R-Parkville) wants to impeach Governor Jay Nixon for signing an executive order accepting joint tax returns from gay couples married in other states, among other things, the AP reports: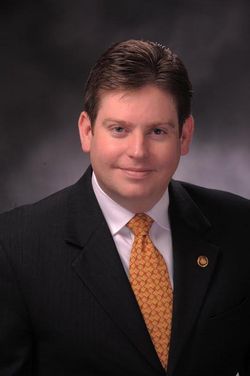 Nick Marshall, of Parkville, referred to the governor's executive order directing officials to accept joint tax filings from same-sex couples who are legally married, the release of the names of concealed gun permit holders to a federal agent and driver's license procedures.
Marshall says he believes the governor's administration has violated the law and that his motivations are not political gain or attention. He has not spoken to House leaders.
Wrote Marshall on his Facebook page:
I will seek Articles of Impeachment against the Governor. He has openly disregarded the laws and Constitution of the State of Missouri and allowed his administration to do so on multiple occasions. If we are to live under the Rule of Law, he cannot be allowed to remain in office…Anyone that knows me and my voting record knows I don't give a rat's tail about party affiliation when it comes to the Rule of Law. The Governor and his administration broke Missouri law by disclosing the CCW holder information en masse to the federal government and by cooperating with the Department of Homeland Security in the development of Real ID. The Governor's use of executive order yesterday to violate the Missouri Constitution is just another example of his willful disregard of the confines of the law.
At the same time he issued the executive order on Friday, Nixon made clear his personal views on same-sex marriage:
"Many Missourians, including myself, are thinking about these issues of equality in new ways and reflecting on what constitutes discrimination. For me, that process has led to the belief that we shouldn't treat folks differently because of who they are."