The brain behind Britain's now fifteen-year-old Queer as Folk will be pumping out two new shows in 2014, and just like that show, it sounds like it'll be all (or at least partially) about sex. Russell T. Davies has penned Cucumber and Banana, companion shows with interrelated characters that will be accompanied by a supplemental program online called Tofu. The delicious trifecta is named after a scientific study Davies once read which "divided the hard-on into four categories, from soft to hard. One, tofu. Two, peeled banana. Three, banana. And four, cucumber." Sounds promising, right?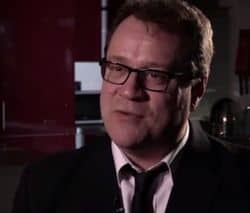 The Hollywood Reporter reports:
Cucumber is eight hour-long episodes for Channel 4 and follows 46-year-old Henry and his long-suffering boyfriend Lance.
Life for Henry and Lance is comfortable and settled. But after the most disastrous date night in history — involving a death, a threesome, two police cars and the Glee Christmas Album — Henry's old life shatters, and his new one begins.
On E4, Banana will follow the lives of characters orbiting around Henry in Cucumber, in eight 30-minute episodes.
From young lesbian Scotty's first love to 19-year-old Dean's mysterious family secrets, Banana covers "50 shades of gay, and beyond," Channel 4 said.
Tofu aims to take the experience online with eight factual episodes navigating the landscape of 21st-century sex in its own inimitable way.
The shows, which are still being cast and are set to begin shooting in early 2014, will likely have a great deal of hype surrounding them. Davies is well-known not only for QAF, but also for his work on Doctor Who, a show which has consistently grown in popularity both across the pond and domestically. His collaborators rightly have faith in his ability to deliver on his new shows.
Channel 4 head of drama Piers Wenger said: "No one can look into the heart and soul of modern relationships quite like Russell, and across Channel 4, E4 and online, he paints an unflinching and forensic portrait of how our sex lives affect us all. It might be 15 years since Queer as Folk, but he has made it more than worth the wait."