Oprah Winfrey's yard sale includes a chest of drawers worth $50,000.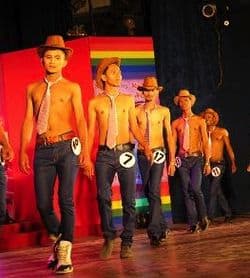 Nepal held its very first gay beauty pageant
today: "The country's only openly gay lawmaker and BDS president, Sunil
Babu Pant said: 'This programme has encouraged gay men to reveal their
hidden talents and will create more awareness about gender and
sexuality.'"

The father of the man who went on a shooting spree at LAX yesterday called police about his son around the same time the shootings actually took place.

The former owner of a gay bar that was badly damaged in a fire has been charged with arson.

Bernhard Goetz has been arrested for trying to sell marijuana to an undercover NYC cop.

Two kidnapped French journalists have been killed in Mali.

Crack-smoking Toronto Mayor Rob Ford is adamant: "I'm not resigning."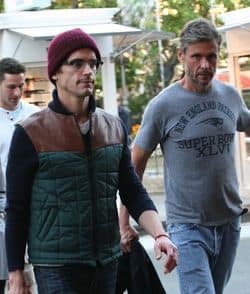 A bunbled up Matt Bomer and less bundled up Simon Halls take in a movie in LA.

New law in Germany introduces a third sex option for those born with both male and female characteristics. They reason: "The council had argued, among other things, that many people born with both sex characteristics who were operated on as children say they wouldn't have consented to the surgery."

Teens talk about the teen problem on Facebook.

Britney Spears promotes her new single "Perfume" on Snapchat.

There's a good chance that anti-discrimination laws could become a reality in Holland, Michigan if two anti-gay council members are defeated in Tuesday's election.

The family of jailed Pussy Riot Nadezhda Tolokonnikova claims she is now missing.