Jennifer Neuman-Roper, the spouse of Angelique Neuman-Roper, and one of the plaintiffs in a landmark case at the New Mexico State Supreme Court requesting the freedom to marry, lost her battle to brain cancer on Friday, the Albuquerque Journal reports: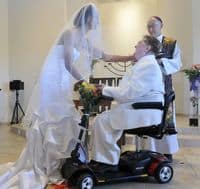 Jen and Angelique Neuman-Roper of Nambe were married in August during an impromptu ceremony in the lobby of the Christus St. Vincent Cancer Center in Santa Fe, the same day a judge granted their request and ordered the Santa Fe County clerk to begin issuing marriage licenses to same-sex couples. They made their urgent request because Jen Neuman-Roper had Stage 4 glioblastoma, an aggressive form of brain cancer.
They married again in October, this time in a more formal ceremony in Pojoaque attended by many family and friends.
Upon her passing, Jen Neuman-Roper was the first person to be issued a New Mexico certificate of death that acknowledged a surviving same-sex spouse, according to a news release issued today by the American Civil Liberties Union of New Mexico.
The Supreme Court is expected to issue a ruling soon.
Our thoughts go out to Neuman-Roper's wife, friends, and family.
KRQE's report on the case from early September, AFTER THE JUMP…