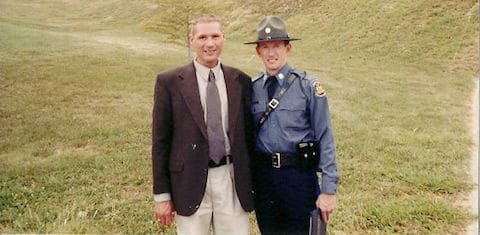 Because when you're in a 15-year committed relationship, you're just friends or something. The Missouri Supreme Court has been working on a case regarding whether Kelly Glossip is entitled to survivor's benefits from the death of his partner, Missouri State Highway Patrolman Capt. Dennis Engelhard who was killed. According to a report from Ozarks First, they reached a 5-2 decision that Glossip is not entitled to benefits. But it's not because they were gay; no, it was because they weren't married.
"Glossip was denied survivor benefits because he and the patrolman were not married, not because of his sexual orientation," the ruling document stated. "If Glossip and the patrolman had been of different sexes, Glossip would have still been denied benefits no matter how long or close their relationship had been. The result cannot be any different here simply because Glossip and the patrolman were of the same sex. The statute discriminates solely on the basis of marital status, not sexual orientation."
This astoundingly disingenuous ruling neglects to mention Missouri Statute 451.022 which states "A marriage between persons of the same sex will not be recognized for any purpose in this state even when valid where contracted," so Glossip's claim would still have been denied even if they had been legally married.