At a White House Press Conference on Monday, prior to the 61-30 Senate vote which advanced the Employee Non-Discrimination Act, Press Secretary Jay Carney may suggested a change in thinking on an executive order in the Act's future. Carney responded optimistically about the impending Senate vote when questioned by the AP's Julie Pace, and he also stressed that Congress's passing of ENDA would be "preferable" to an executive order, language that differed from that he had used in the past.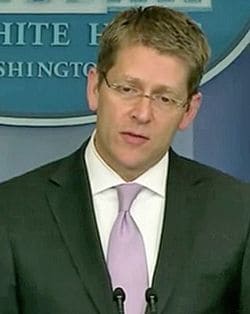 Reports Chris Johnson at the Washington Blade:
"What we've said about this is two things," Carney said. "One, the preferable and better path has been through Congress because that would be inclusive. An executive order that addresses federal contractors obviously would not be inclusive; it would not extend beyond federal contracts. So, we're focused on getting ENDA through Congress. When I used to answer questions about an executive order by saying that, there was great skepticism that it would get this far, and we have come to a moment where quite likely, in fact possible, that the Senate will pass this, so we're going to keep pressing ahead."
Carney use of the past tense in his response — "what we've said about this" and "when I used to answer questions about an executive order" — suggests that the White House position that an executive order won't happen at this time is being reconsidered.
Immediately after the briefing, the Washington Blade shouted out to Carney an inquiry on whether the president is now open to signing the executive order. Carney gave no response.
As of now, the White House clearly hopes for congressional cooperation in passing the long-awaited legislation. Do you think that President Obama would sign an executive order if Boehner and the GOP should succeed again at stifling workplace protections for LGBT Americans?