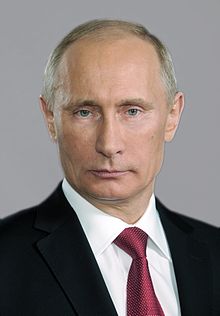 No doubt trying to draw attention away from what is becoming an increasingly dangerous, hostile and virulently anti-gay culture in Russia, Vladimir Putin spoke out yesterday warning that Russians must not "'create a torrent of hatred towards anyone,' including homosexuals," Al Jazeera reports:
At a meeting with leaders of junior political parties on Wednesday, Putin defended the law, saying that it was meant to protect young people – but he added that hatred toward gays was unacceptable.
"You know how much criticism I had to listen to, but all we did on the government and legislative level (was) to do with limiting (gay) propaganda among minors," Putin said. "In the meantime we should not create a torrent of hatred towards anyone in society, including people of non-traditional sexual orientation."
Putin's remarks come just months before the 2014 Olympic Games in Sochi that have drawn widespread international concern following Russia's passage of the now infamous anti-gay propaganda law in June. Putin has previously insisted there is "no infringement on the rights" of gays in Russia and that gays are welcome at Sochi, declaring, "We are doing everything, both the organizers and our athletes and fans, so that participants and guests feel comfortable in Sochi, regardless of nationality, race or sexual orientation." However, at least one person, Russia's Sports Minister Vitaly Mutko, who in August said that Sochi athletes would be subject to Russia's anti-gay laws, has publicly admitted the political folly inherent in passing such an incendiary and discriminatory law in the lead-up to a major international sporting event that, in theory at least, holds discrimination of any kind to be fundamentally incompatible with its own credo:
"One could have calculated the impact it would cause in the West, especially ahead of the Sochi Olympics," Sports Minister Vitaly Mutko was quoted as saying by rbc.ru website. "The leadership could possibly have put … (it) on hold."