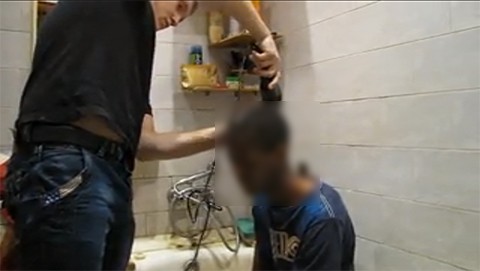 Earlier we updated you on anti-gay Russian activist Maxim Martsinkevich and his group "Occupy Pedophilia," which lures gay men with the promise of sex only to publicly shame them. Though Martsinkevich has fled Russia, fearing he will face charges of "extremism," he is not the only member of the neo-Nazi group that uses social media to hunt down and humiliate gay men. As The International Business Times reports, another video has surfaced showing other members of "Occupy Pedophilia" harassing and assaulting a 20-year old South African, David Smith, a student at Shukhov State Technological University:
In the 33-minute video, Smith has his hair shaved down the middle and
painted green, insulted by a member of the Occupy Paedophilia gang,
forced to kiss a watermelon and then has his head smashed with it.
The South African student is also forced to simulate oral sex
on a beer bottle by the activists and made to perform the 'bent thumb'
gesture – a mock version of the Facebook "like" sign which is an
identification symbol among Occupy Paedophilia members.
According to the anti-LGBT group, Smith was later expelled from his university.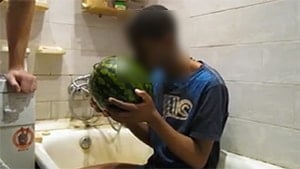 The video, which received thousands of "likes" on Vkontakte ("the Russian equivalent of Facebook"), has also provoked a legal response in Smith's home country:
Pretoria lawyers have written a letter to Russia authorities demanding an investigation into the latest homophobic incident.
"We demand an investigation as these perpetrators can easily be
identified, as well as an explanation by the Russian authorities to the
South African people," the letter stated, according to South African newspaper The Star.
"This thing of paedophilia, that comes from the thugs and that is the
excuse they use to justify their actions. They're neo-Nazi skinheads,
the paedophile thing is just a ruse. It's a thinly veiled smokescreen
for homophobic attacks," said Pretoria lawyer Coenraad Kukkuk.
The letter also demands a travel warning to all South Africans of
travel to the Russian Federation and the boycott of the 2014 Sochi
Olympics.
You can watch the video posted by "Occupy Pedophilia" HERE but we warn you it is disturbing and graphic.