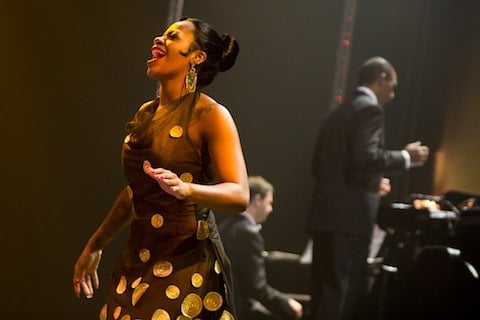 BY NAVEEN KUMAR
A vibrant and seductive new musical revue featuring the
music of Duke Ellington among others, After
Midnight transforms the Brooks Atkinson theatre, where it opened November 3rd,
into a Harlem nightclub teeming with all the energy and explosive talent of the
Jazz Age. Directed and choreographed by Warren Carlyle , the show comes to
Broadway after two popular engagements at New York City Center Encores, where
it was conceived by producer Jack Viertel.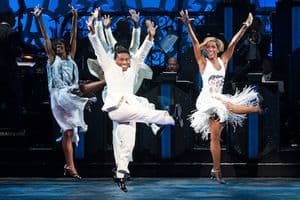 Featuring seventeen on-stage musicians hand-picked by Wynton
Marsalis from Jazz at Lincoln Center, After
Midnight barrels tirelessly through a string of jazz standards performed by
a cast of show-stopping dancers and singers. Aside from occasional excerpts of
poetry by Langston Hughes recited by the evening's host and co-star Dulé
Hill (Psyche), the numbers flow seamlessly into each other over ninety minutes.
While the show doesn't tell a straightforward story, it focuses
on a singular subject from many angles—love (after midnight, what else is there?). Each song tells a story of its own, whether
in lyrics or through dance, and the all-star performers seem to play consistent
characters through different numbers. From the hopeless romantic (Hill) to the
soulful, wisecracking skeptic (Tony winner Adriane Lenox), without names or
dialogue, the characters that come alive in each song are unmistakable.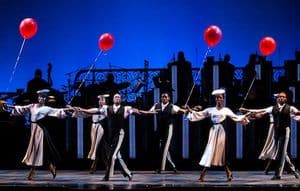 Much credit is due in this respect to Mr. Carlyle, whose
extraordinary choreography not only showcases the awe-inspiring talent of his
dancers, but brings narrative energy to a show that might otherwise feel
disjointed—more nightclub act than Broadway musical. From multiple fiery-footed
tap numbers to the more subtle grace of one number involving single strands of
red balloons, Carlyle's broad range is truly impressive.
Unlike other time capsule musicals already up this season
(including Billie Holiday musical Lady
Day and A Night with Janis Joplin),
After Midnight finds more effective
ways of engaging its audience than the sort of slipshod books that make the
others seem more contrived. Even its on-stage band contributes to the show's purely
musical dialogue, with horns assuming the voices of men in conversation with female
singers, or the band assuming center stage while actors look on in wonder.
After Midnight is
uniquely conceived to accommodate a rotating roster of special guest stars (American Idol winner Fantasia is the
first, K.D. Lang and Toni Braxton are both set to follow), a design meant to
keep audience interest fresh as the show continues its run. While Ms. Barrino's
pop vocals make a fine addition to the line-up, the core company hardly needs
marquis star power to add to its many merits. 
Recent theatre features…
Follow Naveen Kumar on Twitter: @Mr_NaveenKumar (photos: matthew murphy)